05/02/2020 (Day 2): Attending the session on Agricultural sector
Students attending the live streaming of the conference on "Kerala and the World economy " by Centre for Development Studies on 4th and 5th february 2021.
Live streaming of Union budget 2021-22 on 1st february 2021
ONE DAY WORKSHOP – 2018-19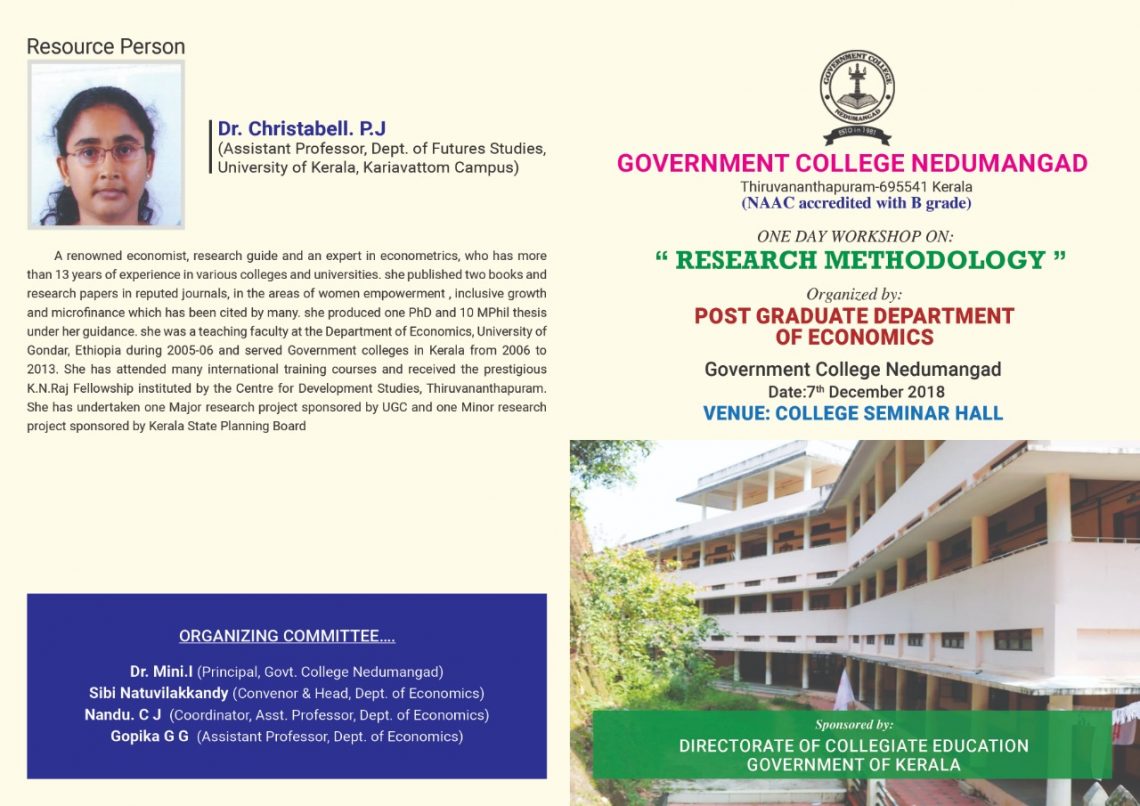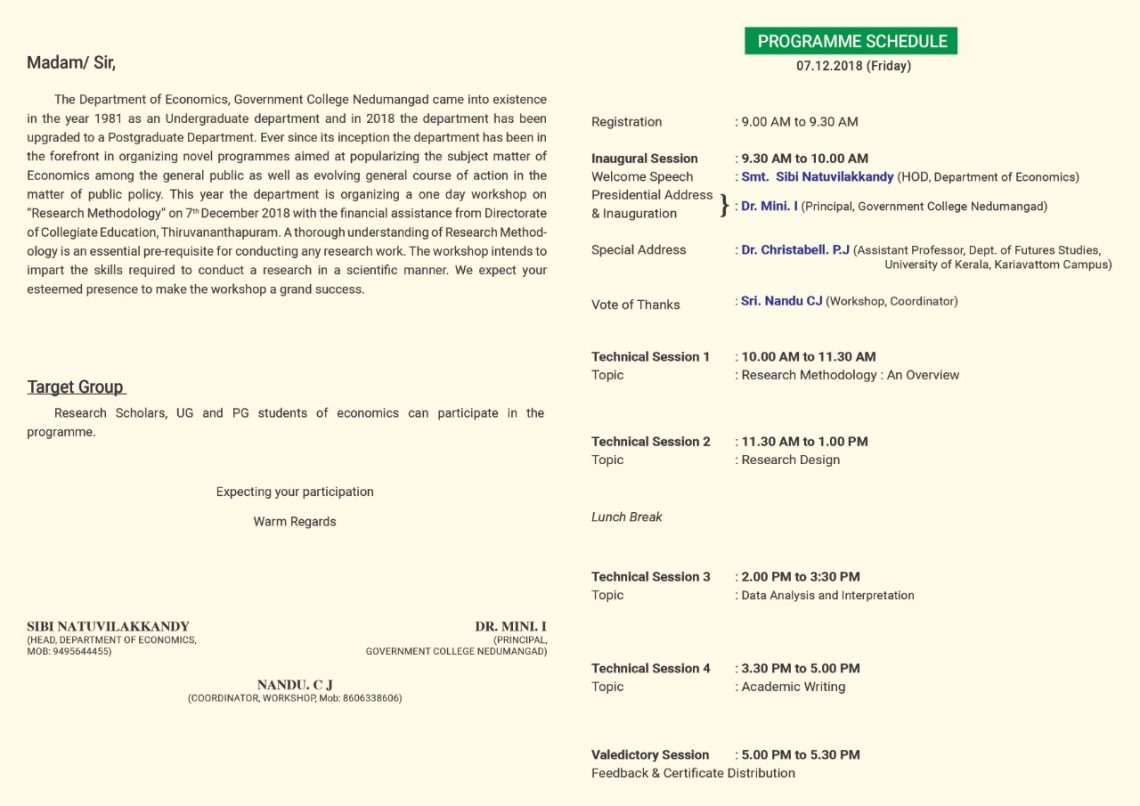 NATIONAL SEMINAR – 2018-19
National seminar on Economic Development and Environment: Collective Action and Conflict of Interest organized by Post Graduate Department of Economics on 8th & 9th November 2018
Seminar Report
The Post Graduate Department of Economics, Govt. College Nedumangad has conducted a two day National seminar on  Economic Development and Environment: Collective Action and Conflict of Interest" on 8th and 9th November 2018 at the College Seminar Hall. The Seminar was inaugurated by Dr.D.K.Sathish, Additional Director of Collegiate Education, Dept. of Collegiate Education, Thiruvananthapuram.
The Keynote address was delivered by Dr.V.Santhakumar, Professor, AzimPremji University, Bangalore. He talked about the importance of environmental economics and sustainable development in the Indian context. He also mentioned about the use of microeconomic tools in the analysis of environmental problems in environmental economics. The seminar was graced with various other resource persons like  Sri.C.R.Neelakandan, a renowned environmentalist and social activist. He delivered a wonderful lecture on various environment issues in India and Kerala. He also highlighted the importance of environment conservation while formulating development policies.  Dr. Manju.S.Nair, Associate Professor, Dept. of Economics, University of Kerala delivered lecture on the topic, " Mangrove Ecosystem: Resisting Environmental and Economic Dispossession through Collective Action". In her lecture she presented the development problems and ecosystem conservation at Valanthakkaduisland. She put forward a model for evaluating the service provided by the mangrove ecosystem atValanthakkaduisland. Dr.B.Jayasankar, Director, Finance and Tariff, Kerala State Electricity Regulatory Commission, Thiruvananthapuram presented the topic "Climate Change mitigation & Transition to Electric Vehicles". All the presentations were thought provoking and shed light into new arenas of research area for students.
The Technical sessions of the seminar were chaired by scholars and academicians who also gave inputs to the stakeholders of the seminar. Numerous research papers were presented in these two days by research scholars and college teachers. The college faculty, office staffs and students gave their whole hearted support for the seminar. Their contribution helped the dept. of economics to make this seminar a grant success.
NATIONAL SEMINAR – 2017-18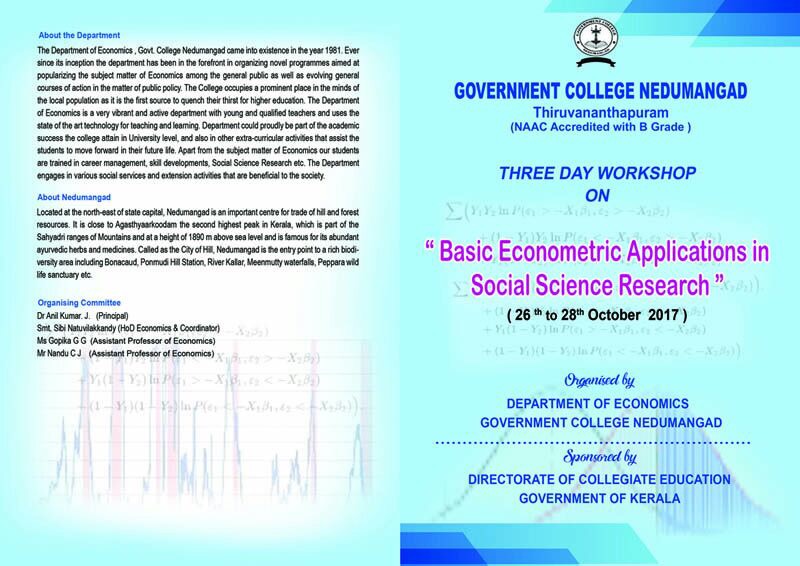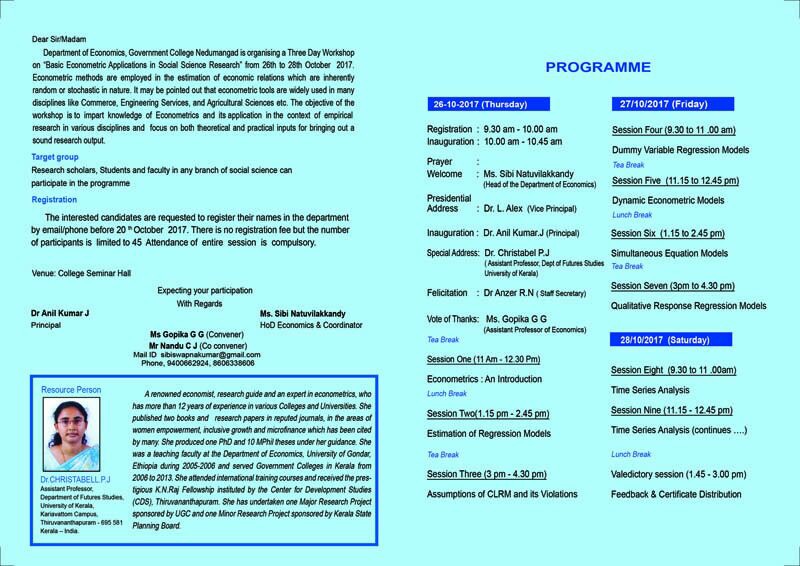 1. National Seminar on Food Security Policies of India: Evaluation, Alternatives and Challenges on November 2013 (Sponsored by Directorate of Collegiate Education)
2. Lecture series on Neo-Road to Development from 23rd  to 27th February 2015 (Sponsored by PTA and Department of Economics, Government College Nedumangad)
3. National Seminar on Changing Drivers of Economic Progress: Role of Emerging Sectors from 15th to 17th December 2015 (Sponsored by Directorate of Collegiate Education)
4. National Workshop on Research Methodology and Application of Statistical packages in Social Science Research from 1st to 3rd February, 2017 (Sponsored by Directorate of Collegiate Education